Joe Wagman
Production Manager / Sales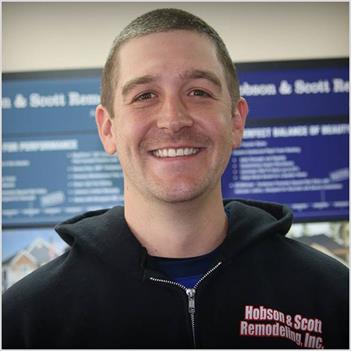 After graduating from Griffith High School, Joe Wagman went to Indiana University. He went on to become the Production Manager and Sales personnel at Hobson & Scott. For over five years now, Joe has managed our job sites and installers, making sure that our employees are working safely and efficiently. If our customers have any concerns or questions about any project, Joe communicates with them thoroughly and respectfully. He is also the one in charge of completing our project properly and making sure that the job site is cleaned up after completion. On top of all these, Joe also takes sales appointments throughout the year.
Joe enjoys playing softball on several different teams throughout the year as well as flag football. He is also an avid golfer and loves to play whenever he can get out. If he is not out playing sports, Joe enjoys going to the movies and listening to all kinds of music. He is a huge fan of the Chicago Bears, Chicago Blackhawks, and the Chicago Cubs.
Joe has been a huge asset to the company since acquiring him in 2010. He has excellent communication skills with both our customers and employees. He is a hard worker, never complains about his tasks for the day, no matter how challenging. Joe is always organized, on time for work and always completes his paperwork on time. We are glad to have Joe on or team and hope to retain him for years to come.